WHEN IT'S TIME TO TAKE THE WHEEL: SENIOR TRANSPORTATION SERVICES
July 1, 2022 / By admin / No Comments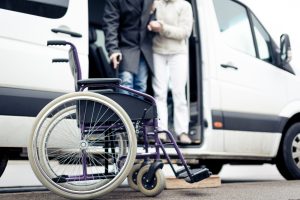 The wind in your hair and a new set of wheels—there may be no greater symbol of independence than earning your driver's license and those first few unsupervised drives and the freedom it avails. Whether that car is borrowed, shared, or brand-spanking-new, the feeling it imparts is almost universal. So when that privilege is challenged or threatened, it can feel like a personal affront. The world starts to feel infinitely smaller when the perimeters of accessibility are diminished to those within walking distance. This is one of the biggest impediments to transitioning into an assisted care living situation: the fear of lost independence and the loss of driving privileges can be the most offensive. Luckily, there are some ways to approach the situation to help ease the pain and inconvenience.
The first step is determining whether or not someone is still capable of being behind the wheel. Sometimes this is subjective; in those cases, it is almost always better to err on the side of caution. If someone shows signs of vision impairment or delayed reflexes, it is best to keep them from the command post of a half-ton heap of metal on wheels. DMV screens, vision tests, and a doctor's assessment can also be of use to legitimize concerns if an elder is digging their heels in at the thought of relinquishing driving privileges. A failed vision test or driving screener can automatically result in license revocation, which some people might accept more readily than simply a loved one questioning their ability. If a physical disability is at the root, this can be easier to accept and could even come as a relief to have handicapped-accessible transportation options at hand. In fact, it is this kind of mentality that sometimes helps to make it seem like things are being made easier rather than problematic. AARP offers a great conversation starter for when any red flags about a loved one's driving ability come into question. But in any case, people still need and want to get around, and for that, there are a few different options.
Family members and friends can provide "chauffeur" services to some degree, but obviously, with everyone's busy lives, this isn't always possible. Also, the elder can feel like a burden, always needing to be ferried around and disrupting other people's schedules. But services like Uber and Lyft have made it exponentially easier to transition into a carless existence. This is so mainstream now that much of the stigma of not driving oneself has basically disappeared. Even better, especially for elderly or disabled individuals, are programs like Access-a-Ride, although these are notoriously inconvenient and sometimes not up to snuff. As such, Mary Wade offers a fleet of handicapped-accessible vans to service the needs of residents and older adults in need of transportation in the greater New Haven area. Drivers are fully licensed and trained in medical emergencies, so passengers are in good, caring, and responsible hands when they board a vehicle to take them where they need to go. This can be so freeing to people who might feel constrained by their living situation but don't want to burden others just to get out for some fresh surroundings.
And these aren't just pre-arranged "field trips." Some of those kinds of things can, admittedly, feel infantilizing. On-call, door-to-door service can be a godsend to people who might otherwise feel a little claustrophobic in their living arrangements. Most people at some point in their lives have dreamed about having a chauffeur or free car service, so emphasizing that kind of thinking can really help residents of assisted care facilities overcome any negativity surrounding their loss of being able to drive themselves. Instead, they'll get friendly, courteous, and caring professional drivers at their beck and call. And they don't even have to worry about parking.