BRINGING A LOVED ONE HOME FOR THE HOLIDAYS
November 20, 2023 / By admin / No Comments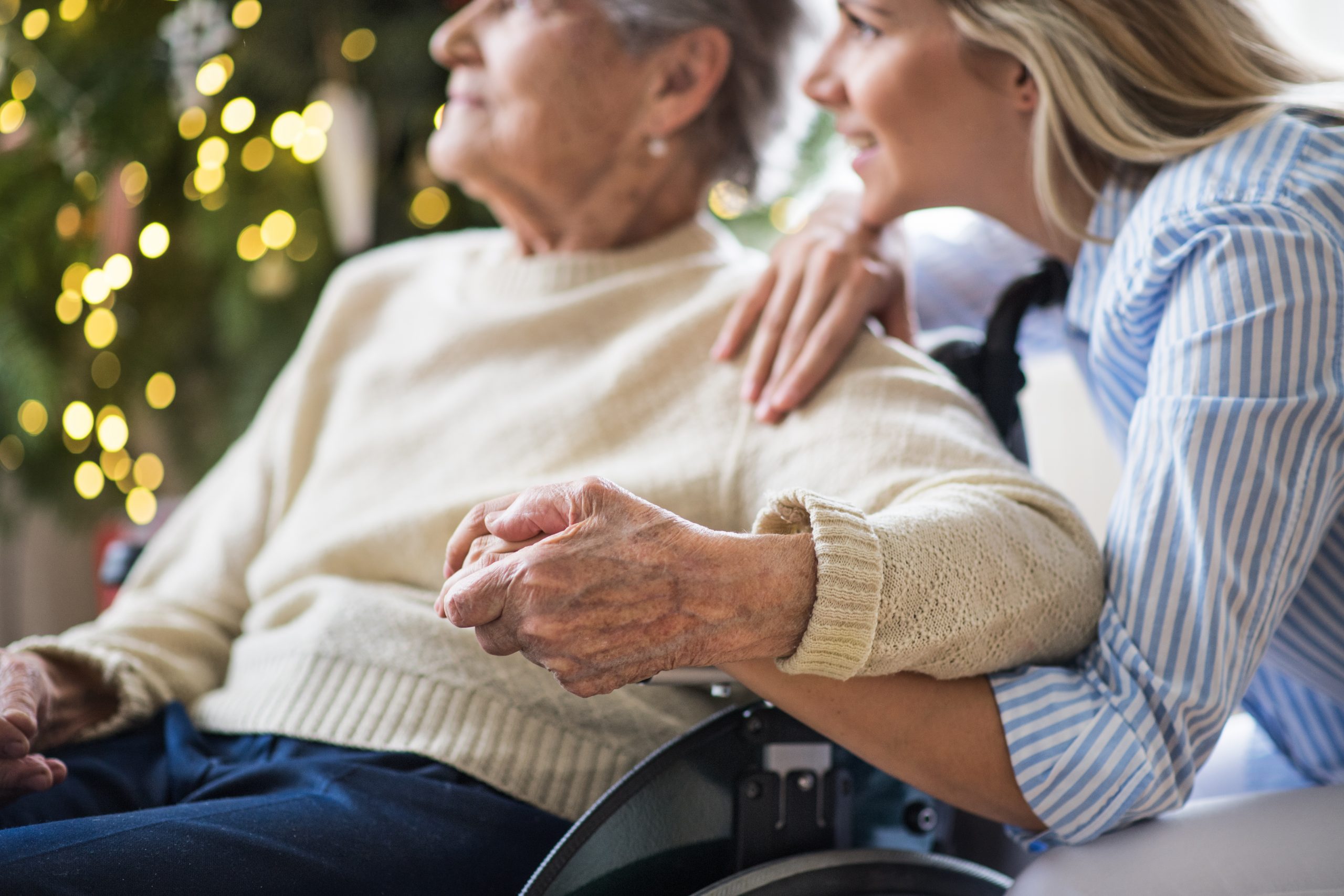 When you have a loved one in a senior care home, bringing everyone together for the holidays can feel complicated.

You may want to bring your loved one off-site, but the process seems intimidating. Or you aren't sure if it's the right option due to their health.

This blog will help you understand your options as you consider whether to bring your loved one off-site for the holidays, as well as determine steps to take. You'll also learn talking points for how to communicate with their caregivers proactively so that everyone can have a safe and happy holiday for all.
The Importance of Spending The Holidays Together

We want to start off by saying that whether you visit your loved one at their senior care home or bring them back to your home for the holidays, keep in mind that togetherness is the most important.

After all, as we age, we become increasingly isolated. That loneliness can negatively affect our mental and physical health.

Family time isn't just for seniors, though. Quality time with family actually helps even our youngest family members as well.

Kids who spend more time with family experience fewer behavioral problems and actually perform better academically. Adults in the family have a closer bond with their kids and experience less anxiety.

That's why staying connected with family is far more than just a good time; it actually supports the health and wellness of everyone involved.
So What Does It Look Like to Be Together During the Holidays This Year?

Start with an honest assessment of your loved one's health and well-being. Are they up for a change in their routine? How will they do with the rigors of being transported? Are you able to meet their care needs at home?

The most important thing to remember:  Ask
—
don't guess. Have a frank conversation with the Nursing Care team. Be sure to discuss your loved one's:

• Care needs 
• Daily Routine + how they respond to changes in routine
• Medications 
• Dietary needs
• Mobility challenges
• Transportation

This conversation will help you determine whether it's feasible to bring your loved one to an off-site venue this year.
Sometimes Staying On-Site Is the Best Option

While you want your loved one to share the holiday with family, the last thing you want is a health or safety emergency off-site. So, it's important to be honest about what is in your loved one's best interest.

If your loved one's health is frail, staying on-site may be best for them.

If staying on-site is best, chat with the Social Work team about what festivities are planned and how you can best celebrate together.

Next, talk to your loved one about what activities they would enjoy doing
—
perhaps making cards or decorating cookies.

You can make the day special with some planning.
Going Off-Site To Celebrate

On the other hand, if their health permits, you might consider bringing your loved one to holiday gatherings off-site.

You will want to talk with the Social Workers to learn the process and what is required.
Each Nursing and Assisted Living Home has its own process for residents going off-site.

Consider the following, being sure to consider that there may be some financial implications as well:

Menu for the day
—
What will your loved one eat?

Mobility challenges and solutions
—
Make arrangements for ramps, walkers, wheelchairs, safety handles, or other supports to ensure safe mobility.

Transportation
—
One option is picking your loved one up. However, their care community may also offer resident shuttles with door-to-door transportation assistance. Inquire about costs.  Ridesharing or public transportation are other options if their health allows it.  Discuss the best plan with the administration.

As you make arrangements, don't be afraid to ask questions so that you can plan accordingly.
Celebrate the Holidays with the Ones You Love


Keep in mind that togetherness is the most important. No matter where you celebrate- make it a great holiday!

Be communicative. Stay flexible. And focus on what's most important
—
celebrating as a family.

Some advanced planning will help ensure everyone has a great holiday season…together!


_____________________________________________________________________

At Mary Wade, we are committed to the well-being of each and every resident. When it comes to the holidays, our staff works diligently with your family to help you plan a memorable holiday together, whether that's on or off-site. After all of the holiday fun, we keep the spirits high throughout the winter with plenty of community-oriented activities. After all, at Mary Wade, our devoted team of caregivers and specialists is committed to providing one-on-one, personalized care in a warm and supportive environment, and our highly skilled staff ensures that our residents receive the best care.